Description
Product Details:
Handheld laser 3D scanner developed by Nanke 3D Technology Co., Ltd. is a high-end scanning device with strong convenience. This series product uses international leading vocal technology and has a very high scanning efficiency. The procedure for using is convenient and flexible. 3D scanning models of object surfaces can be made quickly with high accuracy and high resolution 2 CCD + laser scanning structure, without the need for other auxiliary positioning, can scan freely and continuously
Product features:
Accuracy: can measure precision up to 0.02 mm.
High efficiency: can switch between multi-beam laser line and single beam laser line freely Can scan black surfaces and highlights directly without developing
Flexibility: can be used with the photometric matrix system to scan very large objects
Applicability: suitable for scanning objects of various shapes, colors and materials and can scan in outdoor light and open environment
Convenient: the machine is small, lightweight, ergonomic design. And can be used for a long time
Easy to use: the wires and data cables are easy to learn and use.
Compatible with many formats: measurement results will be exported in ASC, STL, PLY, TXT, OBJ, IGES, XYZ and other formats which can be used with Geomagic Pro / e, CATIA, 3ds Max, Maya, Softimage. And other three-dimensional software for data exchange
Scan mode: can scan to generate triangular grid data, STL scan to create IGES point cloud data, support to scan and set the target point location And has the function of optimizing the positioning of target points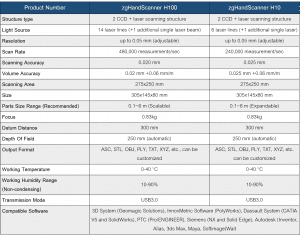 Compare and analyze:
A high-precision 3D scanner with professional inspection software that consists of inspection solutions suitable for sheet metal, mold, turbine blades, prototypes, injection molding and casting.
Use:
Image preview
Comparison of 3D Scanner applications
Blu-ray Binocular (High Precision) is used for scanning small objects. The resulting image will have a relatively high resolution.
Handheld Structured Light (Highly Use Receommended) used to scan the shape of people, Buddha images and statues etc.
Handheld Laser (Super High Precision) is used for scanning various components such as car parts, planes, etc.
Interested or contact
Tel. 082-972-9329  (Jimmy)
Tel. 083-256-5981  (Gomin)
Tel. 02-312-0227  (Company)
E-mail : Sales@salecnc.com