Description
CNC Plasma SV1325-60 Cutting 98″ x 51″ ขนาด 1300x2500mm

Specification


Yes, include plasma source. Include everything ready to use. All you need is just an air compressor minimum 3HP, suggest 5HP.
Industrial DSP Controller: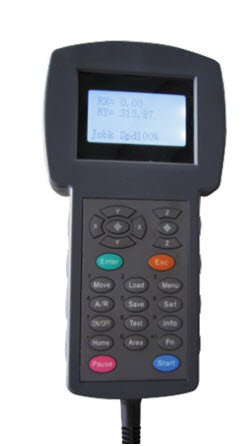 With USB and Ethernet data transfer.

Sample cuts:
Application:
Iron sheet, steel sheet, aluminum sheet, galvanized sheet, stainless steel sheet, white steel plate, titanium, gold board.
Equipment characteristic: 
1.The rack uses the entire welding structure for firm, stability, operating simplicity and lasting durable.
2. The cutting speed is quick, the precision is high. The cutting chip is small and neat. In the traditional numerical control system's foundation, improved the control mode which cutting uses, has avoided two conditioning processing.
3. Is suitable in the steel plate, copper plate, iron sheet, aluminum sheet, stainless steel sheet, galvanized sheet, metal plates, titanium and so on.
4. The numerical control system disposes high. The automatic striking the arc, the stable property, the striking the arc success ratio achieves 99 ﹪ and above.
5. Supports standard G code way document which software, Beijing University of Aeronautics and Astronautics Haire, ARTCAM, Type3 produce. The control system can be used with USB exchange processing file. It's made for friendly use.
Direct from our factory: