Description
Sell CNC plasma control system F2100B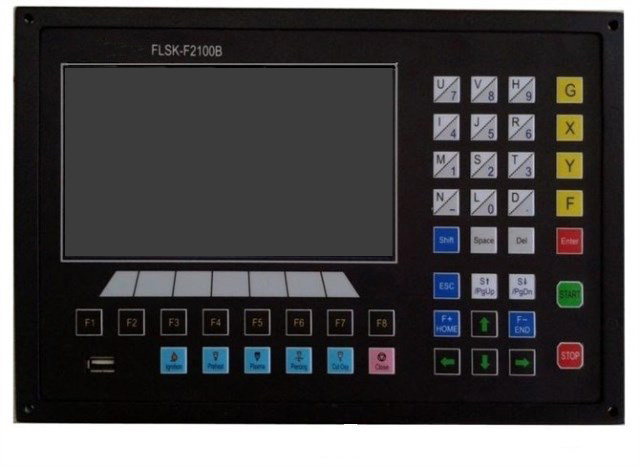 Basic Parameters/ Hardware Configuration:
MCU:ARM9
Number of axis motion:Two axes motion interpolation (can be extended to three axes)
Max code lines:150,000 lines
Single cutting code size: 4MB
File memory space::Electronic bulk memory chip, 512MB
User file memory space:256MB
Controlling accuracy:±0.001mm (millimeter)
Coordinate range:± 99999.99mm
Max pulse frequency:250KHz;Max motion speed:25m/sec.
Time resolving capability:10ms
System power:DC +24V
System working condition:Temperature :0℃ – +55℃;Relative Humidity: 0-95%.
Interface:USB
Frame:Overall metal structure, electromagnetic radiation resistant, anti interference, anti-static
Special configuration:Touch pad, 100m wireless remote controller and wire control box(optional for full range of F2000 series)
Support oxygen gas, plasma, powder and simulation demo mode.
Keyboard: PCB film keyboard,PS/2 interface, OMRON button
Characteristics of System
45 categories different graphics (including grid pattern), chip part and hole part are alternative.
Graphics have some operations such as Proportion, Rotate, Mirror.
Graphics can be arrayed in matrix, interaction, stacked modes
According to plate thickness, the cutting speed is automatically restricted by a speed limit in the corner, effectively preventing over burn.
metric system/ imperia system switch
Steel plate can be adjusted according to any steel side.
Coordinate system can be customized to support the two-dimensional coordinates of all eight kinds.
All input and output port type and the number can be customized (normally open or normally closed)
system and parameters backup, update system online
Chinese / English (including Japanese, Russian, French and other languages )file system and menu can be switched only by one key.
select row and column manually.
support edge cutting and offset cutting.
Automatically memorize the working situation and the last cutting point when power off.
Dynamic/static illustration of the process, graphics zoom in / out, dynamically tracking cut-off point under zooming state.
support artgrave, TYPEIII, PM2000 cam software
set up different administration authority to and the corresponding password to safeguard the interests of managers.