Description
Thailand is located in a tropical area. There is hot weather all year round. In the use of machinery Electronic device And other equipment in industrial plants When the temperature rises Causing the inside of the device to become overheated Resulting in defective equipment Work ineffectively And looking for more heat May cause a fire
Heat in machinery Is like the heat of a person's body When the temperature in our body increases beyond normal We will be sick. And unable to do various things At full capacity Therefore, we consider the maintenance of various machinery and electronic devices and can solve high temperature machinery problems by installing an Air Chiller
How important is an Air Chiller?
1. Helps to release heat from the machine.
2. Maintenance of machinery and electronic devices for a long time.
3.Effectively effective and long service life
4. Reduce the cost of buying new equipment Reduce maintenance costs And reduce product production time
5. Reduce the rate of fire.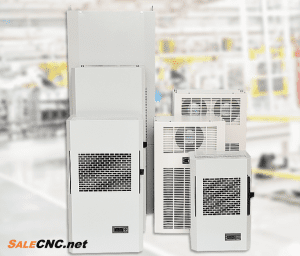 Carbon Steel Shell
Stainless steel shell can be customized according to requirements, spray color, and specified size, etc.
Controller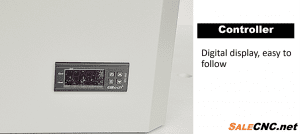 Digital display, easy to follow
Dust and Moisture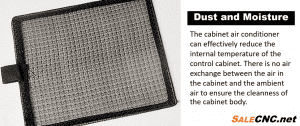 The cabinet air conditioner can effectively reduce the internal temperature of the control cabinet.
There is no air exchange between the air in the cabinet and the ambient air to ensure the cleanness of the cabinet body.
Machine characteristics : 
Product description :
Model
GCEA-300
GCEA-500
GCEA-600
GCEA-800
GCEA-1100
GCEA-1500
GCEA-2000
GCEA-2500
GCEA-3200
Power Supply (V), Hz
1P 220, 50
Width (mm)
286
350
360
370
390
436
High (mm)
445
500
630
745
875
1010
1113
Depth (mm)
175
200
240
270
Cold (W)
300
500
600
800
1000
1500
2000
2500
3200
Operating Current (A)
1.48
1.69
2.1
2.3
2.85
3.73
4.3
5.2
7.3
Starting Current (A)
6.5
6.7
8.5
9.5
10.8
14.6
16
18
21
Power (W)
287
333
420
450
610
790
910
1110
1615
Coolant
R134a
R22
Tone (dB)
55
60
65
60
Fan Guo
25 – 38 °C (factory setting 30 °C
Use environment pressure range
-5 – 43 °C
Weigh (kg)
15
17
26
28
32
37
48
60
64
Appearance
RAL 7035
Internal circulation air volume (m3/h)
120
150
230
180
270
320
410
610
Outer thunder ring air volume (m3/h)
180
230
290
340
540
780
810
840
1150
Temperature control method
Digital display
Air Chiller Installation :
Interested or contact
Tel. 082-972-9329  (Jimmy)
Tel. 083-256-5981  (Gomin)
Tel. 02-312-0227  (Company)
E-mail : Sales@salecnc.com